The Project Case – Competencies for a sustainable socio-economic development is one of six EU-Projects out of 230 applicants which got accepted from the European Commission within the framework of the Programme "Erasmus Plus – Knowledge Alliances". The project with a budget of 900.000 Euro is going to be implemented together with 10 Partners from five countries under the Coordination of the RCE Vienna located at the Vienna University of Economics and Business.
Knowledge Alliances are transnational, structured and result-driven projects, notably between higher education and business. Knowledge Alliances are open to any discipline, sector and to cross-sectoral cooperation. The partners share common goals and work together towards mutually beneficial results and outcomes.
The Knowledge Alliance (KA) jointly accepts the need of new ways of teaching and learning as well as a strong cooperation between higher education and business to enhance a sustainable socio-economic development in general and new forms of sustainable driven enterprises in particular. Jointly the KA aims at changing the EU landscape of HEIs towards a stronger accentuation on new inter- and transdisciplinary ways of teaching and learning as well as sustainable entrepreneurial education, increasing university-business cooperation, new university spin-offs or relate start ups in the area of a "green economy" and a subsequent change in the curricula of European HEIs.
The aim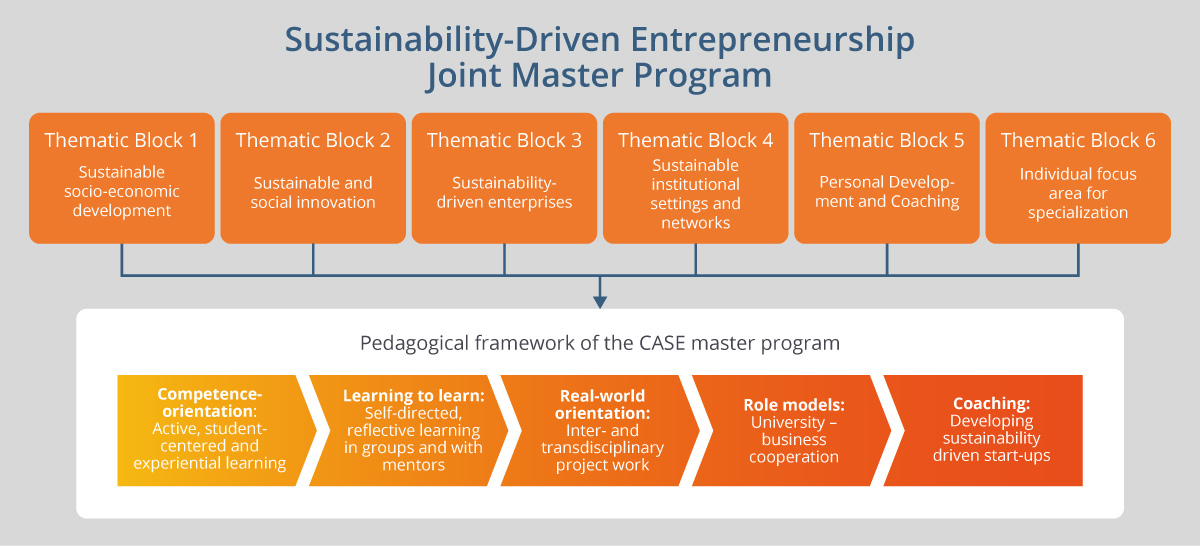 This shall be achieved through the framework and basic elements of a new Joint Master Programme on "Sustainability-Driven Entrepreneurship" for European universities. The framework is based on six thematic blocks and sixteen related modules focussing on (1) Sustainable socio-economic development (2) Sustainable and social innovation (3) Sustainability-driven enterprises (4) Sustainable institutional settings and multistakeholder networks (5) Personal Development and Coaching (6) Individual focus area for specialization. Each module could also be used as "stand-alone" to offer universities substantial support and guidance.
The structure of every single module is aiming at acquirement of skills and competences via using inter- and transdisciplinary methods and tools in teaching and learning, focusing university business cooperation and project work and implementation aiming at entrepreneurial education and founding new sustainability-driven enterprises.
5 regional pilots which form an inter-university course with more than 25 service learning projects (and 25 service learning partners / enterprises) will test and optimise the modules while providing various best practice examples of university-business cooperation.
At the end of the proposed project, an open access knowledge platform will provide the four modules and shall account and enable European universities for the implementation of the Joint Master and for their own curricula building processes. This knowledge platform will be linked with and supported by global multipliers such as the UNU / global RCE network or the COPERNICUS Alliance in order to sustain the activities and partnership of the proposed KA.
Target Groups and benefits
European universities with a focus of curriculum renewal towards competences for sustainable socio economic development and sustainability-driven entrepreneurship
EU universities shall benefit greatly from the provision of innovation in teaching, learning and cooperation (open access to educations modules), which increases the excellency of problem focused research and teaching.
European companies with a focus on sustainability, environmental management and eco-innovations
The KA shall provide competences and skills for a sustainable socio-economic development and sustainability-driven entrepreneurship. The EU economies will benefit from better educated / trained academics for the growing sector of a "green economy" as well as from an increased number of sustainability-driven university spin-offs.
European master students of all disciplines
European students will have the benefit that their competencies for a "green economy" are strongly increased as well as they get in contact with the future employment market. Additionally, they will be motivated, educated and trained to start their own business. For students the KA offers multiple opportunities to acquire practical know how to socialize in business and working world, but also invites them to get to know other European universities and learning realities and to keep these contacts after the project has ended.