Service Learning
What is it about?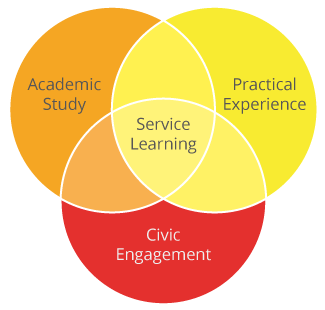 Service Learning or learning by engagement represents one of the most promising methods promoting Education for Sustainable Development. It is an alternative teaching approach where students are confronted with real-world problems and try to find solutions cooperating with partners such as communities, NGOs and companies.
Students learn and develop through engaging in concrete projects by meeting the needs of communities and making personal experiences, embedded in an academic learning environment where they can reflect upon their actions.
Pilot examples
Sustainability Challenge – Vienna
The "Sustainability Challenge" is an inter- and transdisciplinary university course on sustainable development in cooperation with four Viennese universities. Every year since 2010 the initiative educates leaders of tomorrow through service learning projects and encourages students to implement their own solution concepts together with partners from business, municipalities or NGOs.
Find out more about the Sustainability Challenge
Service Learning I + II (SEEP)
This is a one year-long course forming part of the Socio-Ecological Economics and Policy (SEEP) Master Program coordinated by the Institute for Ecological Economics at Vienna University of Economics and Business. A core element of the course is that students are encouraged to bring their own service learning project to life in the Austrian context. The Service Learning projects are conducted with either an established partner organization or company, a start-up company or an association located in Vienna or greater Austria.
Corporate Sustainability Communication
In summerterm 2015 and winterterm 2015/1016 two service-learning courses were run at the University of Vechta in cooperation with two local sustainability-driven enterprises (the
Ulrich Walter GmbH – Lebensbaum
and
Piepenbrock
). Students from all disciplines worked in groups and in close exchange with the company partner to develop ideas and concepts addressing current challenges of the company concerning corporate sustainability communication.
Project examples
Get inspired by further project examples implemented with various stakeholders (companies, GOs, NGOs etc.) in five different European cities – Vienna/AT, Vechta/GER, Brno/CZ, Gothenburg/SWE and Bolzano/IT.
View project examples
These projects are the ones that create value, not only within your studies, but also beyond. You can try out, test your skills, get introduced to working life and develop your own projects.
Master Student
Social Design, University of Applied Arts Vienna
Benefits
Creating impact with engagement
Joyful and creative working atmospheres
Promoting innovative potential via visionary thinking
Personal development by taking over responsibility
Critical reflection with community
Success factors
Design projects for real implementation
Ensure interactive and creative projects
Create projects with visability
Offer coaching and feedback sessions
Be aware of peoples' needs
Challenges
Balance between service and learning
Lack of transparency and communication
Joint expectation management
Ability to deal with failures
Task assessment leaving enough room for creativity
Supporting material
General overview
Tools
Templates
Literature
Contacts and experts